Compare Nissan Pathfinder vs Toyota Highlander – Delray Beach, FL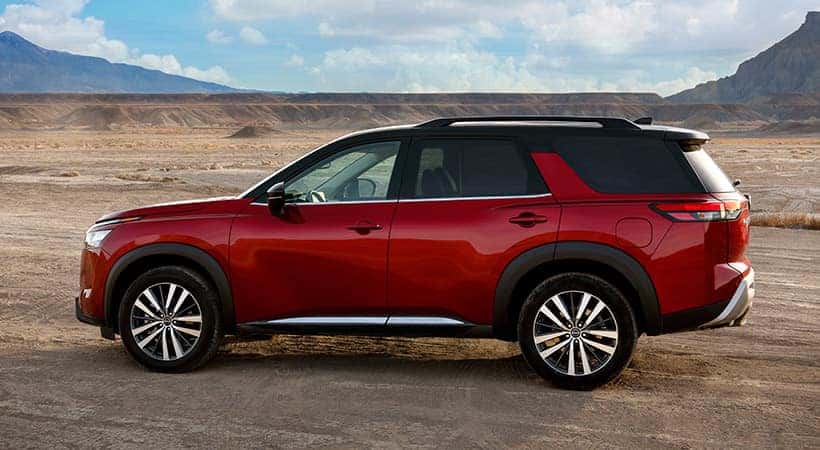 For a rugged SUV with a refined feel and first-class fuel efficiency, the Nissan Pathfinder doesn't just show off, it truly delivers. This mighty SUV is often compared to the Toyota Highlander, and if you're not sure about the differences between the two, we've done the work for you. HGreg Nissan Delray is one of the top southeast Nissan dealerships, and we have over 25 years of experience selling only the highest-quality new and use Nissan vehicles. When you buy from us, you will get the HGreg Nissan Delray package of Guarantees — guaranteed highest value for your trade, lowest price on the car you want, unrivaled financing options, best Nissan lease prices throughout Florida, 100% customer satisfaction, flexible returns and exchanges, free delivery, and free car washes. If you're not satisfied, you can return your vehicle within three days with no more than 300 miles for a refund, or exchange within 30 days. You can even complete the entire buying process online, right from home!
Read ahead to see how the Nissan Pathfinder stands out from the Toyota Highlander in a number of ways!
View Inventory
What Makes the Nissan Pathfinder Stand Out from the Toyota Highlander?
Both the Nissan Pathfinder and the Toyota Highlander are popular selections among those looking to buy an SUV. The Nissan Pathfinder stands out with its massive towing capacity, with maximum capacity of a whopping 6,000 pounds, while the Highlander maxes out at 5,000 pounds. The V6 engine is also ready to make every path more powerful with 284 horsepower, several steps above the Highlander's 265-horsepower engine. The Pathfinder offers seven drive and terrain modes to make it ready to handle any type of ground, from mud to wet snow. The Highlander, on the other hand, only offers four drive modes for given terrains. One way that Pathfinder is a trailblazer among SUVs is its ability to have you attach a trailer without a spotter, thanks to the Intelligent Around View Monitor.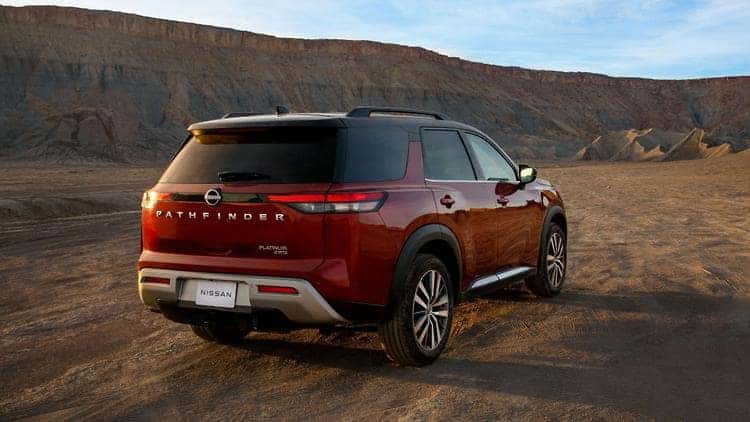 On the interior, the Pathfinder is committed to the best in comfort and spaciousness. Second-row captain's chairs are available, and the center console is easily removable to allow for even more of a roomy feel. Need more cargo space? The Pathfinder is a standout with 80.5 cubic feet of cargo space, and if you need even more, the second and third row seats easily fold to let you store what you need.
Our Large Inventory of New and Pre-Owned Nissan Pathfinders
When you shop at HGreg Nissan Delray, you will delight in the number of both new and used Nissan Pathfinder vehicles you'll find in our inventory. Our newly refreshed interior at our dealership is eye-catching, and you'll never find any gimmicks during the purchasing process for your Pathfinder. We also offer, with every new vehicle purchase, a free trip to Cancun, as well as free maintenance on your new Pathfinder for a full year!
Complete the Entire Buying Process Online
With the pandemic still having effects on the lives of many, we understand the need to stay healthy and safe during these challenging times. This is why we have made it easy to complete the entire buying process for your Pathfinder online, right from our website. You don't even have to leave home! We can deliver your Pathfinder to your home, and you can schedule a test drive without coming to our dealership. We will bring the Pathfinder to your driveway for you to test drive at a time that fits your needs. You can even continue the process after you have your Pathfinder, with Service Pickup and Service Appointments at Home.
Browse Our Inventory, Apply for Financing, and Schedule a Test-Drive From Anywhere!
The Nissan Pathfinder is a prowess of performance and comfort, and you can find both new and used Pathfinder vehicles in our massive inventory at HGreg Nissan Delray. You can complete the entire buying process online, including shopping our inventory, applying for financing, and scheduling your test drive. Your health and safety is important to us, so we make it easy to take care of the buying process online. Get ready to drive on and off the beaten path and any terrain with a Nissan Pathfinder from HGreg Nissan Delray!