Compare Nissan Armada vs Infiniti QX80 – Delray Beach, FL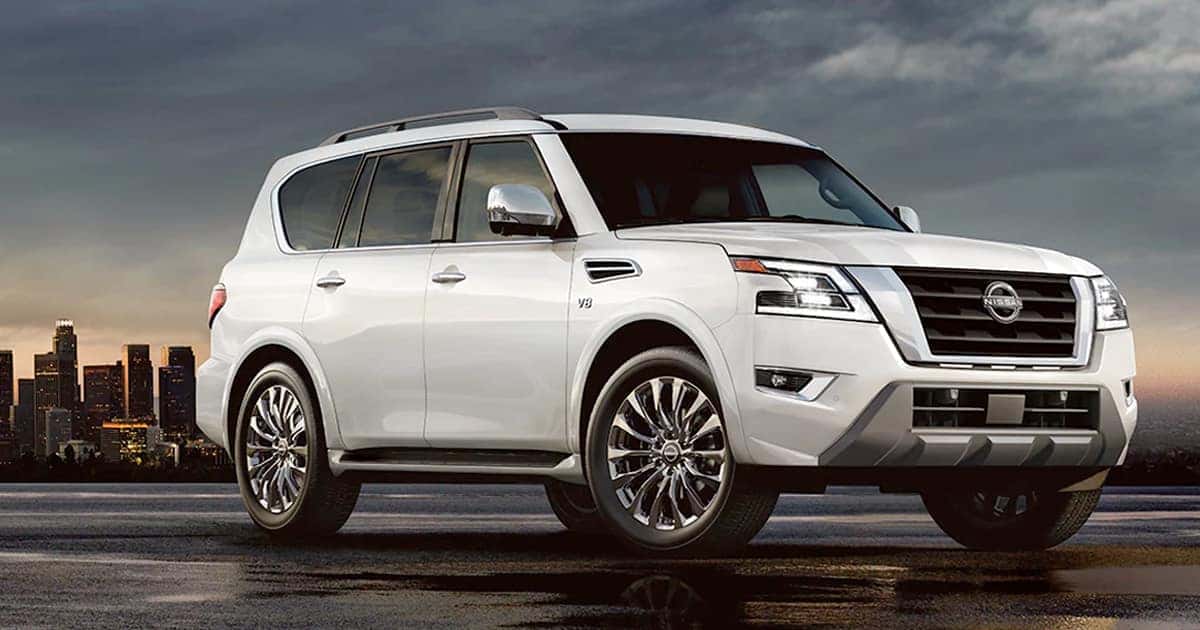 Both the Nissan Armada and INFINITI QX80 are full-sized SUVs that offer the feel of luxury. Here's something you might not have known — INFINITI vehicles are actually made by Nissan, and are said to be Nissan's luxury brand! We have compared the details of these SUVs to help you make the decision, and no matter which one you choose, we carry both at HGreg Nissan Delray, with the INFINITI QX80 in our Luxury Row inventory.
Whether you buy a Nissan or an INFINITI vehicle from HGreg Nissan Delray, one thing you'll never have to deal with are any gimmicks. We guarantee the lowest price on the vehicle you want, as well as the highest value for your trade, no matter what. In addition, we guarantee the best Nissan lease prices in all of Florida, unrivaled financing options, and only the best of the best customer satisfaction.
We've laid out the details at HGreg Nissan Delray and compared both the Nissan Armada and INFINITI QX80. Read ahead to see the similarities and differences between the two!
View Inventory
A Closer Look at the Nissan Armada and the INFINITI QX80
For a premium-level crossover SUV that is jam-packed to help you be the leader of the pack wherever you go, both the Nissan Armada stand out from the crowd. The Armada and the QX80 deliver the highest-level performance with a whopping 400-horsepower 5.6L V8 engine and a maximum towing capacity of 8,500 pounds. Both vehicles offer expansive seating, and can easily fit up to eight passengers. Need cargo space? The Armada is the clear winner, with a maximum cargo capacity of 92.6 cubic feet when the second and third row seats are folded down.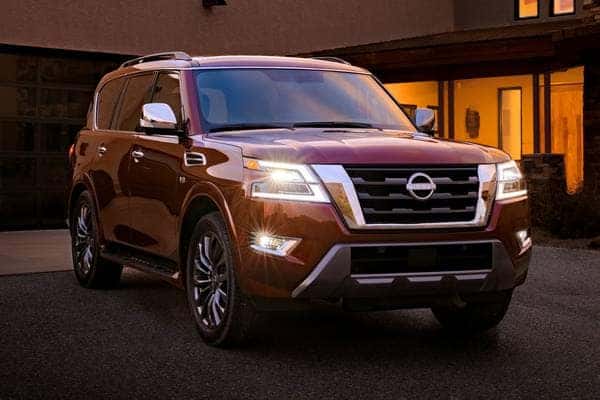 The Armada offers a seven-speed transmission with modes for towing and hauling, as well as manual shifting. The Armada is also ready for anything Mother Nature has put on the ground, with the Intelligent 4×4 that is ready for even the harshest elements.
You'll feel like you're living a life of luxury inside the Armada, with the ultra-comfortable leather-appointed seats. To keep all your valuables safe, the Armada offers the added security of under-floor cargo storage. For the ultimate in luxury feel, though, you can't beat the INFINITI QX80, which is designed to ooze luxury from every angle, and you'll find the most careful craftsmanship with attention to detail in the interior.
Safety is a must wherever you go, and this is why the Nissan Safety Shield 360 system comes standard on the Nissan Armada. You even have the choice of advanced safety features that help you keep focus and stay alert at all times, and know when you might need to pull over and take a short break. However, the QX80 does not offer as many detailed safety features as the Armada.
Both Wireless Apple CarPlay integration and traditional Android Auto integration are available in both the Armada and the QX80.
Our Inventory of Nissan Armadas and INFINITI QX80s
At HGreg Nissan Delray, we carry a wide selection of both new and pre-owned Nissan Armadas in our inventory, and a variety of used INFINITI models, such as the QX80, in our "Luxury Row" line of inventory. We have great incentives if you're buying a new vehicle, namely, a free trip to Cancun and free maintenance on your vehicle for an entire year! Regardless of which vehicle you buy, you'll never find any gimmicks or unexpected surprises along the way.
We even allow you to take care of the entire buying process right online, without ever leaving home. You can browse and shop our inventory, perform a virtual test-drive or have us deliver your vehicle of choice to your driveway for you to test-drive near home, apply for financing, and a lot more. We even offer Service Pickup and Service Appointments at Home, making it even easier to take care of the needed manintenance for your Nissan Armada or INFINITI QX80 while enjoying the comfort of home.
Shop From Anywhere at HGreg Nissan Delray!
For the next level in a premium SUV, both the Nissan Armada and the INFINTII QX80 are powerful superstars. You can easily find new and used Armadas in our Nissan inventory, and quality pre-owned QX80s in Luxury Row. We deliver on our package of guarantees, and we make it easy to complete the buying process online. If you're ready to purchase a Nissan Armada or INFINITI QX80, head to our website and begin shopping HGreg Nissan Delray's inventory!