You Are Here:
Home »
Certified Commercial Vehicle Dealer
BENEFITS OF WORKING WITH A NISSAN BUSINESS CERTIFIED DEALER
Why should you place your trust in a Nissan commercial van or truck? There are plenty of reasons to work with a Nissan Business Certified dealership, but they all boil down to one result: your company's success. Triumph over the competition by allowing Nissan and Grieco Nissan of Delray Beach to work for you.
QUALITY NISSAN NV VANS & TITAN TRUCKS
The perks of doing business with your Nissan Business Certified commercial dealer in Davie begin here. Offering some of the most durable and thoroughly tested commercial vehicles in the industry, including the extraordinary Nissan TITAN and a bevy of NV vans, Nissan has gone above and beyond the call of duty. With nearly one million miles under their belts, these Nissan models have been pushed to the limit and back again to ensure you can confidently drive your business to greater heights.
DEALER-EXCLUSIVE INCENTIVES & NISSAN OFFERS
Saving money is a priority for any company, which is why the Business Certified commercial team at Grieco Nissan of Delray Beach proudly offers exclusive Nissan special offers and incentives. When shopping for a company vehicle or entire fleet of commercial vans, you may have access to discounts like NMAC cash-back deals, extended credit lines, and special Nissan fleet pricing.
DEDICATED NISSAN COMMERCIAL VEHICLE ACCOUNT MANAGERS
Nissan considers a partnership to be a two-way street, which means you're never left to your own devices when working with a Nissan Business Certified dealer. Grieco Nissan of Delray Beach's Commercial Vehicle Account Manager (CVAM) is readily available to handle your company's transactions, answer questions, and provide assistance in any way possible. As your single point of contact, your CVAM is always in your corner.
CUSTOMIZED UPFIT PACKAGES AT NO CHARGE
As part of the Nissan Commercial Incentive Program, complimentary and personalized upfit packages are also available. You can upgrade your Nissan commercial vehicle with racks and bins, free exterior graphics, and several additional add-ons when available.
Speak with your Account Manager to learn more about the Nissan Commercial Incentive Program.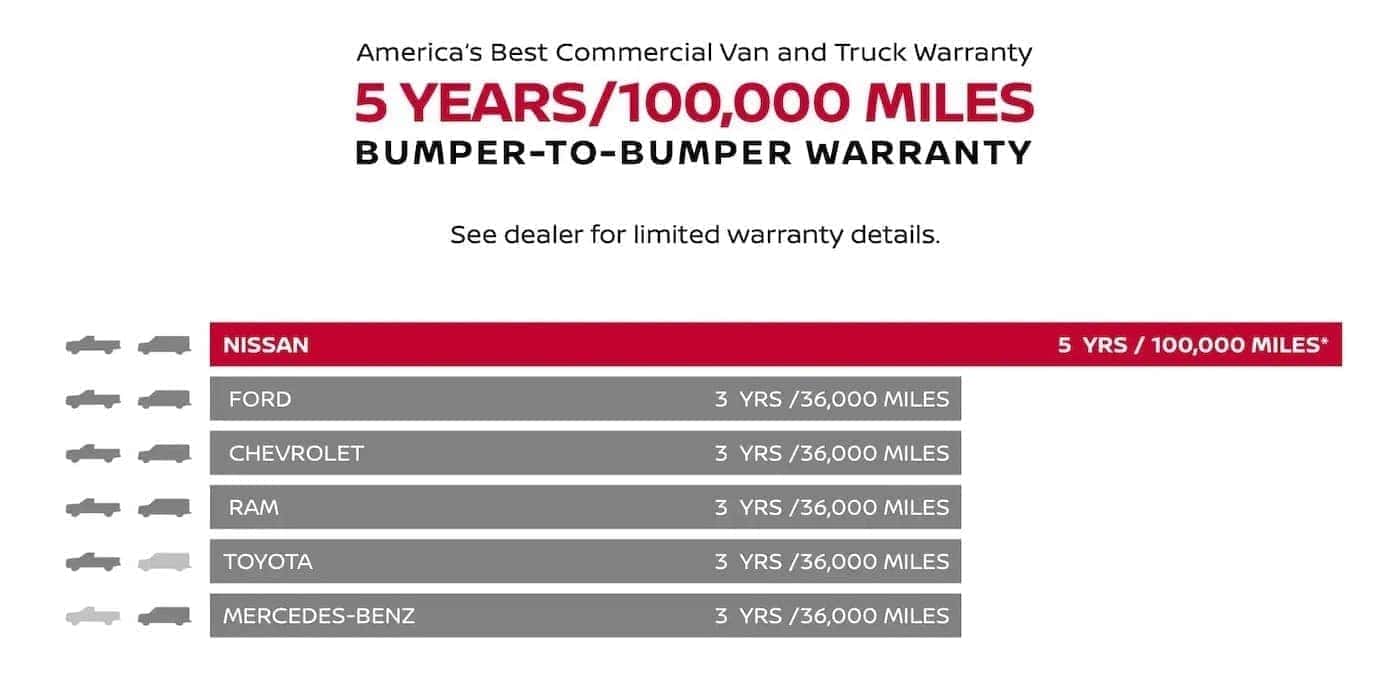 Nissan is proud to provide business owners with the country's best truck and commercial van warranty, bar none. With any Nissan TITAN or Nissan NV commercial van, you'll receive an unheard of 5-year/100,000-mile Bumper-to-Bumper Limited Warranty that covers the repair or replacement of original Nissan parts and components. Additionally, you'll receive the following coverage:
5-year/100,000-mile Powertrain Warranty
10-year Restraint Warranty (airbags, seat belts, and other control systems)
5-year Corrosion Warranty
See the Business Certified commercial team at Grieco Nissan of Delray Beach for detailed warranty information.
PRIORITY SERVICE & FAST REPAIRS
Time is money. Every minute you're away from the road is a lost dollar-and those lost dollars add up quickly. When you partner with the Business Certified commercial team at Grieco Nissan of Delray Beach you won't have to worry about breakdowns and repairs thanks to Nissan's Next Day Priority Service Guarantee. No lines. No waits. No ifs, ands, or buts-just quick turnarounds and quality auto service.
24/7 ROADSIDE ASSISTANCE
Even the finest company vans and trucks can encounter unforeseen problems. As a Nissan Business Certified partner, you have access to Emergency Roadside Assistance for up to 36 months (or 36,000 miles) as well as complimentary shuttle service. Extended Roadside Assistance services are always available, so be sure to ask your Nissan Commercial Vehicle Account Manager for details.
To experience the difference our NV commercial vans and trucks can make, contact Grieco Nissan of Delray Beach at 561-783-5698.