Nissan Certified Pre-Owned
Benefits Include:
7-Year/100,000-Mile

Limited Powertrain Warranty

7-Year/100,000-Mile

Roadside Assistance Coverage

167-Point Inspection

Genuine Nissan Service & Parts
Plus More...
View Certified Vehicles
Get Approved
Need help financing the car you've always wanted? We can help! We work with multiple lenders and will help get you the best loan possible.
Apply Now
Our Reviews
Meir is the most amazing person in sales. He is very knowledgeable about the cars and take his time with you to make sure you experience is an amazing one. I have purchased now my 4th car with him and have been his customer since 2014. If you want to have a great experience I recommend to she Meir. Thank you again for the amazing service. Please make sure to let him know that I am happy with the service he provided each and every time.
I have purchased my 4th car recently from Meir Alaluf. He is very knowledgeable about each vehicle. I have been a customer of his since 2014. Each and ever time he has made my experience a pleasant one. Just wanted to say thank you again for the amazing service.
Meir Alaluf was excellent. His knowledge of the vehicle was the best. He explained everything about the vehicle and went over everything with me. Everyone at the dealership was friendly and very courteous. I definitely recommend purchasing your next vehicle with HGreg Nissan Delray.
I'd been dealing with three other Nissan dealers, none of whom would give more than $2000 over what I owed for my car. And on top of that, they were trying to sell me a used 2021 Rogue with anywhere between 16K and 16K miles. I was in a new Rogue Sport SL w/premium package and only 6100 miles, retailing for over 31K as a used vehicle. I needed more room for my car and was looking for a Rogue. Enter H Greg Nissan. The car was fair price (sticker price, not 5$ over for "market adjustment" like other dealers did), and the GM, Bobby and saleswoman, Alexis, a super team, saw to it that I received a generous offer on my trade. I was flabbergasted and had just about given up on a new vehicle until they stepped in and made the impossible a reality. Great service, pleasant experience. I HIGHLY recommend.
Meir and everyone that helped me at HGreg Nissan Delray was excellent. They helped me decide on the car and ran the process great. I was in and out with a car in no time. Al
We decided to stop at this dealership to look at the Mercedes Benz SL550 they had on the lot while traveling back home to Daytona Beach from our cruise in Miami. Being a X-GM of stores I was very impressed with Meir Alaluf, He made the process very easy and had our new car delivered to us the next day and picked up our trade. This is true customer service.
Well, this was the 4th time we worked with Meir Alaluf. Not to be outdone, he stepped up and got us the deal we asked for and drove away in the exact car we wanted. The only one at the dealership. He made it as painless as car buying could be. We've been customers at this dealership through 3 changes in ownership. They're running a great store. Couldn't be happier. thanks so much!
Meir Alaluf is very professional, respectful and friendly. He gave us an amazing deal on our car. I highly recommend him!
Amazing sales staff, Meir alaluf was helpful thru the whole process. Most smoothest vehicle purchase I have ever done.
Had a great, fast, and simple experience with Meir Alaluf. He really helped me through the process and made it very easy for me. Greatly recommend!
From the first call to the signing of the paperwork was a pleasure. Meir, my salesman was more helpful than I thought I needed. Weather it was text or email all of my question where answered promptly and above all else honestly. Would happily recommend to family and friends.
I just had an AMAZING experience with Meir Alaluf and the HGreg team! I purchased a 2021 Porsche 911 4S over the internet and had the car shipped to Houston, Texas. Meir went above and beyond to make the purchase a stress free experience. He even took the car to the local Porsche dealership to have the car serviced for me and he kept me informed every step along the way. The car arrived this weekend and is absolutely beautiful! You can't go wrong with Meir, he is truly one of a kind! Thanks Meir!
Amazing experience Was Greeted by sales consultant Jakari Vaughns who was so friendly and professional and took the time to listen to all my needs and request.I was contemplating a lease buy out or trade in for a new 2022. I have been to several Nissan dealerships in the South Florida area who misrepresented me and tried to take advantage of me in these difficult times I was then introduced to the sales manager Lorenzo Coscarelli he was simply amazing he asked me exactly what I'm looking to do what I'm looking to spend and he negotiated a fair deal with no xxxxxxxx and just made it happen There was no sugar coding or misrepresentation like at other dealerships straight to the point very honest very straightforward The whole process was simply painless and I got to say I felt a lot of pain at the other dealerships So in closing and after horrific experiences at other Nissan dealerships I want to commend H Greg Nissan in Delray FL for putting their customers first and a great customer service experience I finally left with the vehicle of my dreams I cannot be happier thanks to the team great job done looking forward to referring this dealership to all my friends and relatives Earl Friedman
Meir is the bomb !! Thanks for getting it done! Also shout out to the manager and finance guy!! Great place to get a car.
Purchased a classic car through the dealership that had to be shipped to Illinois. Outstanding service from the initial call to final delivery. Craig was great throughout the entire process!! Very efficient and simple process.
Meir Alaluf is the best. And he's the reason why we've purchased/leased over 7 cars from him over the years. He works very hard to get us the best deal while treating us with respect. And we love our 2022 Murano. Thanks, Meir
I just purchased my 2019 Nissan Rogue and was very impressed with Meir Alaluf. He made the process stress free and had my best interest in mind. He also made sure I was able to get an oil change and my tires rotated. All this was done during my paperwork. The service advisor, Joyce Cole, Service Advisor, was very friendly and informative. She got my car ready in a timely manner. A very happy owner
My experience with this dealership was superb from the moment I walked onto the property and continues to this very day. My salesman, Creg Sabarese who I might add had been highly referred to me by a friend, was exactly as described. He was friendly, knowledgeable, patient, funny, and exactly the personality I needed to help me decide on the exact car and model I needed. In the end his guidance paid off in every way. I am an extremely satisfied customer of both Creg's and this dealership as a whole. His team from beginning to end ensured I had everything I needed and understood everything necessary. I will be a returning customer of Creg and this organization for many years to come.
I actually purchased a vehicle at another nissan dealer but I was not satisfied with the overall experience. They tried to bait and switch me and charge a huge amount for an add on that I got for free before. I went to Hgreg where I bought my wife's car last year. I was greeted by Lorenzo and worked with Felipe and got the car that I wanted at a good price and was treated like a valued customer. I was promised the car in 10 working days and it was delivered as promised. This dealership is great to work with and I highly recommend them.
In today's highly competitive automotive market, it was wonderful to find a place that was so accommodating and personable. Meir Alauf is the absolute best; very knowledgeable, professional, kind, and most importantly, truthful. We were treated like royalty, the staff made us feel like we were at home. I will most certainly do business with him again. My husband could not be happier with his new car. It was a seamless process and in less than 3 hours we were driving off the lot. No fuss, no muss. We were very happy with our visit, thank you again Meir!!
I have a service on my altima on October 16 , the supervisor Alex Damas , and the mechanics technicians did a outstanding job.
Working with Meir Alaluf was an absolute pleasure! Meir is extremely patient, I never felt pressured to make a decision, and most importantly, a professional - who knows the car business inside and out. The leasing process of my new Nissan Sentra took almost no time at all. The best part – Meir stayed in touch with me the entire time which only made the buying experience more enjoyable. I highly recommend you talk to Meir Alaluf if you are considering buying a new or previously owned automobile.
Let me start by saying that I purchased my first vehicle from this dealership in October 2019, which was a Nissan Rogue. I brought my car in for service in May 2020 and met Carlos Ferrer. While my car was in service, I had the opportunity to drive a 2020 Nissan Pathfinder rock creek edition. I immediately fell in love with this vehicle. A couple weeks later I decided to purchase the vehicle. Unfortunately, the vehicle that I was driving while my car was being serviced was sold. The General Manager, Joe Coscarelli, went out of his way to find me the exact vehicle color and all from another dealership down south and had it shipped to HGreg. I stayed in touch with Carlos through the process and received several telephone calls from Mr. Coscarelli providing me with updates. When I came in and purchased the vehicle last Monday, I had the pleasure of working with Alexandros (Alex) Zarbalas. I was in and out of the dealership in less than two hours. Another gentleman synced my phone with my new 2020 Nissan pathfinder while we were finishing the purchasing process. I reached out to Carlos a couple days later to ask him some questions about the Bluetooth system. I received a phone call back from him as well as the gentleman who synced my phone to my car. LOL we are still working on that. I have purchased two vehicles now from this dealership and both purchases have gone smoothly. I cannot say enough about the gentlemen that I worked with in purchasing the 2020 Nissan Pathfinder. They were all fantastic and so great to work with. I specifically need to say that Mr. Coscarelli's professionalism was impressive. I would recommend this dealership to my friends, family, and coworkers. Everyone here was professional, courteous, and went out of their way to make the customer happy. You can't ask for more than that.
Always treated promptly and in a very professional manner. The service dept offers outstanding service. Had the pleasure of working with Alex. 5* at the service department and, he made sure I was taken care of, from the moment I brought my car for service to the moment the vehicle was ready for pick up. Great service and a pleasure to work with.
Johnathan Hawkins spent the whole day with my father and I, gave great service and advice and helpee me walk out with a beand new car. He was positive, knowledgeable and friendly and made everything I had asked for possible. Great salesman to work with. I never once felt like I was being oversold, pushed into making a decision and after 6 long hours was able to get me exactly what I wanted at the price I wanted to pay. I've had 10 years sales experience in home mortgages in New York City and Mr. Hawkins provided my father and I the service every client deserves. Definitely going to go back to him when my father's lease expires. I've bought and sold many cars in several states, I was 100% satisfied with the entire experience. Definitely go to HGreg Nissan and look and ask for Johnathan Hawkins! The manager Lorenzo was an honest, down to earth person as well, he along with Johnathan, figured out how to get me what I wanted and for the amount I wanted to Pay. Great experience!
Welcome to


HGreg Nissan Delray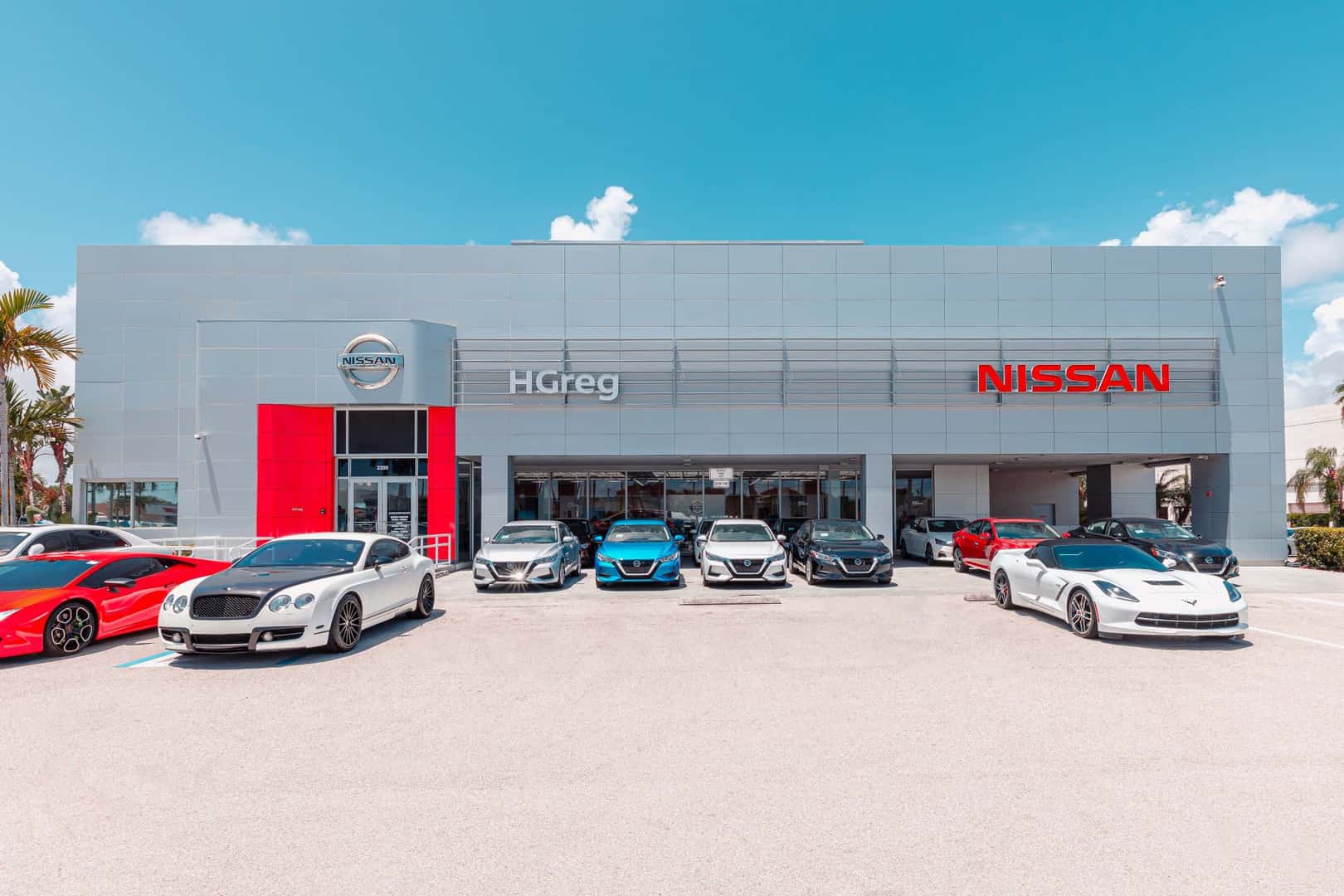 When you choose this dealership, you choose a lifelong partnership with your dealer. We are committed to helping you find the right vehicle for you as well as preserving the performance, safety, reliability, and long-term value of your vehicle purchase. You can count on this dealership for an opulent service experience from the moment you enter our showroom. Visit us today at our address — our seasoned professionals are ready to answer any questions you may have.
This dealership strives to provide the best vehicles and service possible to the dealership area. Or experienced sales and service staff is available to help you find and maintain your next vehicle. Visit our showroom today and let us help you find your dream vehicle!